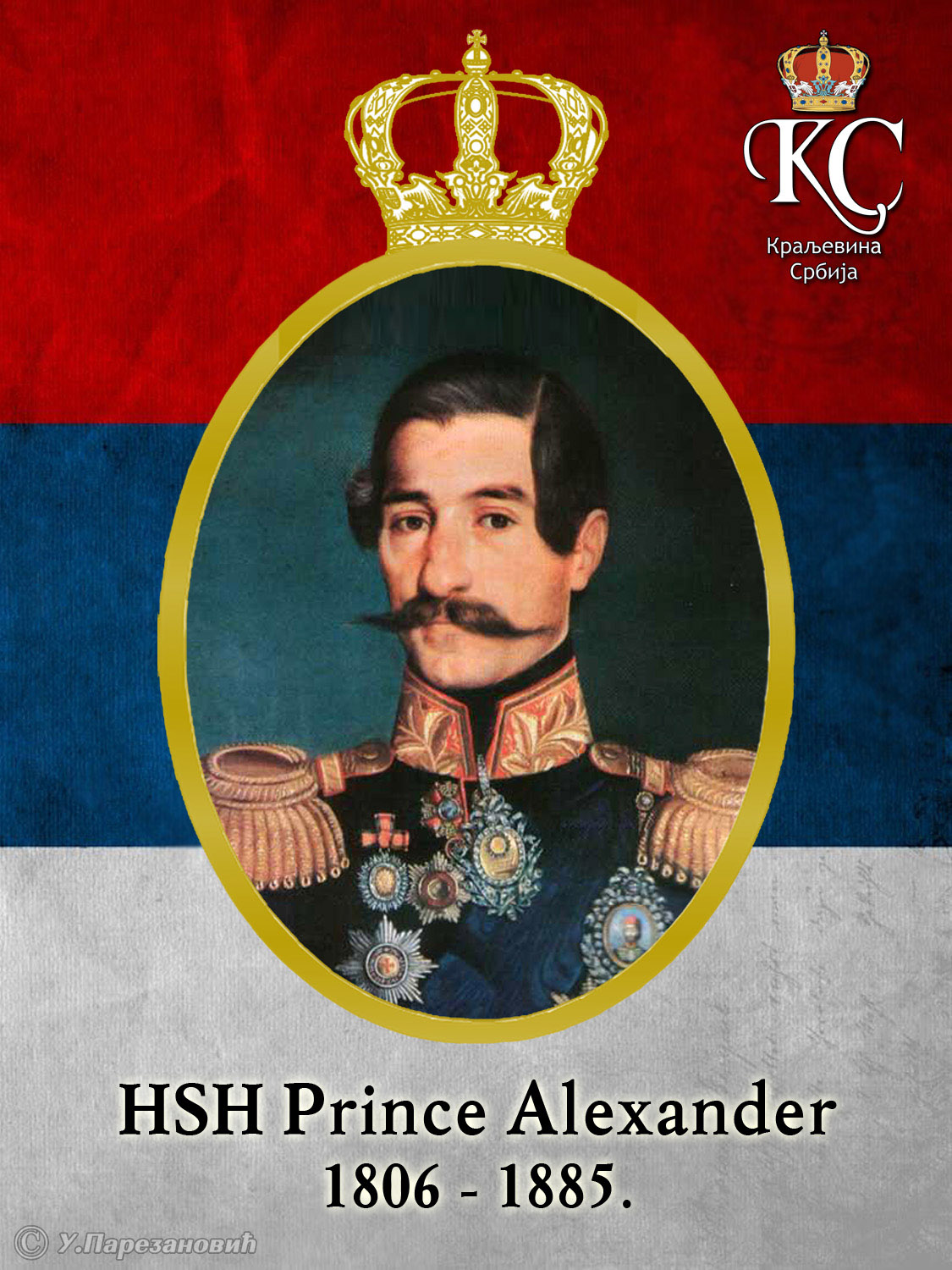 The youngest son of Karadjordje and Jelena was born in Topola 11 October 1806. Alexander Karadjordjevic was educated in Hotin, Bessarabia (Russia), under the patronage of the Russian Tsar. In 1830, he married Persida, daughter of Vojvoda (Duke) Jevrem Nenadovic. They had ten children: four daughters Poleksija, Kleopatra, Jelena and Jelisaveta and six sons Aleksij, Svetozar, (both of them died as young children), George, Andrej, Peter and Arsen.
After the Ottoman Sultan's decree acknowledging the title of Prince for Mihailo Obrenovic at the end of 1839, the Karadjordjevic family returned to Serbia. Once in Serbia, Alexander joined the Headquarters of the Serbian Army, and was promoted to the rank of Lieutenant and appointed as adjutant to Prince Mihailo.
After internal political conflicts in Serbia caused by popular disrespect for the so-called "Turkish constitution", and Milos's and then Mihailo Obrenovic's abdications, the National Assembly in Vracar elected Alexander Karadjordjevic as the Prince of Serbia in September 1842. Having had his title acknowledged by Russia and Turkey, Prince Alexander started a number of reforms and founded a number of new institutions in order to improve the progress of the Serbian state. He implemented the code of civil rights, introduced the regular Army, built a canon foundry, improved the existing schools and founded new ones, and established the National Library and the National Museum.
During the Hungarian revolution against the Austrian government in 1848, Prince Alexander Karadjordjevic sent Serbian volunteers under the command of Stevan Knicanin to the Austrian province of the "Vojvodina of Serbia" to help the Serbs' struggle for autonomy. As a follow-up of the national-political movement in 1848, a pan-Slavic idea of a Southern Slav "Yugo-Slav" Monarchy emerged with the "Nacertanije" (the "Draft") document, written as a Serbian political program by Ilija Garasanin four years earlier; its objective was to liberate all Southern Slavs from Austrian and Turkish domination.
In internal policy, Prince Alexander came into conflict with the members of the Council, which culminated in the convocation of the National Assembly on St. Andrew's day in December 1858, which forced him to abdicate.
After his abdication, Prince Alexander withdrew to his property near Timisoara (Romania). His peaceful life was agitated by the accusation of providing weapons and money for the conspiracy in Prince Mihailo's assassination. He was deeply hurt by the verdict for a deed he never committed. Dynastic struggles became more severe and it was only then that Prince Alexander took part in them. He detested the thought of the hideous deed that was imputed to him by his opponents and fought with all his strength to bring another Karadjordjevic to the throne. Prince Alexander died in Timisoara 3 May 1885. He was buried in Vienna, and his remains were moved in 1912 to the Mausoleum of St. George built by King Peter I in Oplenac.