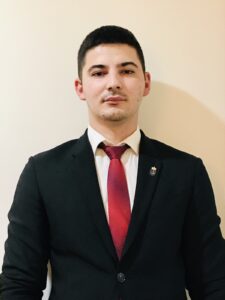 Aleksandar Vujcic – Born in Požarevac on October 20th, 1994. He joined the Association in 2013, upon formation of the Municipal Board in Veliko Gradište, in which he performed the duty of the president of King's Youth.
After obtaining a financial management degree in 2016, he started working at For Trade, a British company, as a financial market analyst, specializing in analysis of crude oil prices on the global financial market. Afterwards, he was employed at Wiener Stadtische as a financial advisor.
He is a recipient of numerous awards and recognitions, among which is an award for the best case study in a digital marketing, market and competition research case study contest.
Two years later, he founded a consulting agency specializing in tax and accounting services. Since then, he has continously been engaged in entrepreneurship, mostly as a member of marketing teams of local start-ups. He became a member of Balkans Business Center in 2018. He joined the City Board in Belgrade in 2019, actively participating in all of the Association's activities ever since, becoming a member of the Board's management in 2021.