ANRM (National Alliance for the Restoration of Monarchy in Romania) and Kingdom of Serbia Association played a friendly football match in Timisoara on June 11th, 2017 on the occasion of the 95th anniversary of the wedding of HM King Alexander I and HM Queen Maria and the first international football match that the national team of the Kingdom of Romania played then against Kingdom of Serbs, Croats and Slovenians in Belgrade on June 8th, 1922.
Kingdom of Romania won the match with result 5:3, and we congratulate them on the deserved victory!
The game was played under the patronage of the Royal families of Romania and Serbia, Romanian Football Association and Polytechnic University in Timisoara, and in the presence of HRH Prince Radu of Romania.
150 members of the Kingdom of Serbia Association attended the match, as well as ANRM members, representatives of the Union of Serbs from Timisoara and citizens of Timisoara.
The Kingdom of Serbia Association was represented at the highest level, starting from the President, members of the Managing Board and the President and members of the Executive Board, who will also participate in the game.
The first 10 minutes were played in jerseys with the names of players who were members of the national teams in 1922 and which will in their honor be worn by players – members of the Association.
Members of our national football team in 1922 were: Dragutin Friedrich, Andrija Kujundzic, Jaroslav Schiffer, Stephen Sterk, Artur Dubravčić, Rudolf Rupec, Dragutin Babic, Branko Zinaja, Emil Perška, Vladimir Vinek and Ivan Šojat.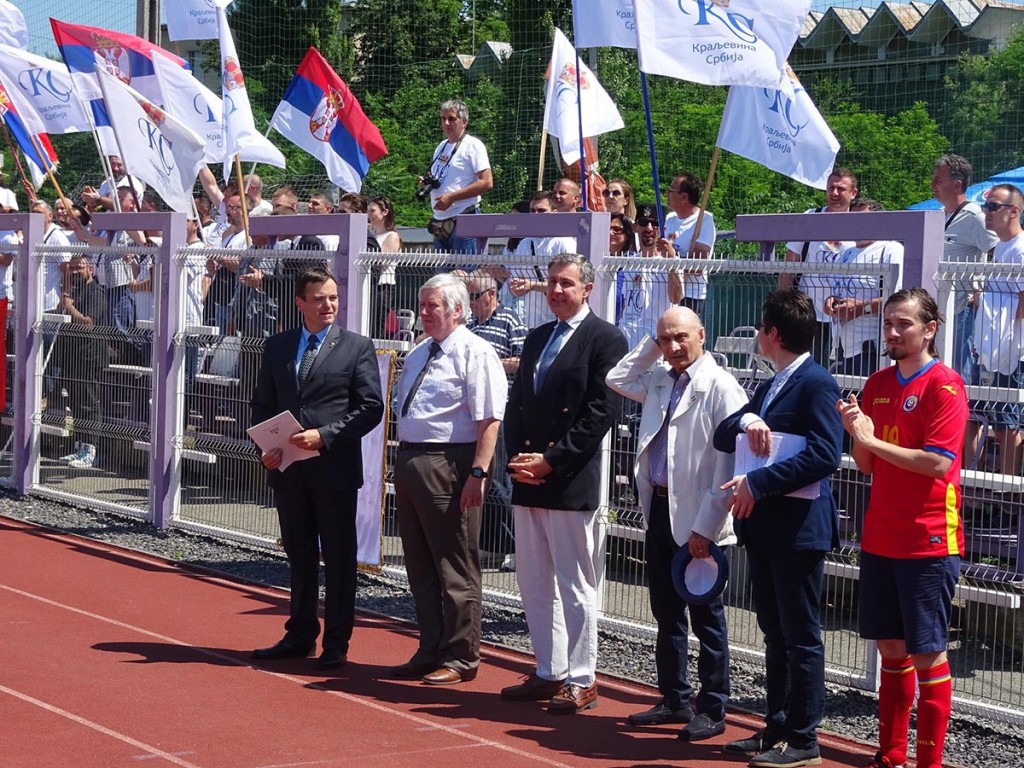 Players after that continued in the jerseys of the Kingdom of Serbia and Romania, specially made for the occasion.
Trophy to the winner of the Royal Cup of friendship and medals were awarded by HRH Prince Radu of Romania. Mr. Mario Majstorovic, President of the Association, received the medal for HRH Crown Prince Alexander was
After that, the delegation of the Association visited the office of the Union of Serbs in Romania and presented 200 books, which are donation of the members of the Association form Rasinski District.
After that, passengers spent a pleasant afternoon in this great friendly town.
Kingdom of Romania team: Adrian Mihalcea, Markos Gakos (goalkeepers), Mihai Dincă, Cristian Mateescu, Cătălin Șerban, Cristian Urs, Cătălin Mihai, Marius Ghilezan, Daniel Nicodim, Lucian Gheorghe, Răzvan Brătianu, Florin Slavu, Marius Mihăeș, Daniel Barbu, Mihail Jipa, Adrian Popa, Florin Sîrbu, Dănuț Bilia, Adrian Ungureanu, Vlad Bîte, Carol Taub, Tiberiu Stanciu, Cătălin Oprițoiu, Marin Laurențiu, Vlad Badea, Alin Borcea, David Ioniță, Irina Cristea;
Kingdom of Serbia team: Slavisa Milovanovic, Zika Tatic (goalkeepers), Nenad Milojevic, Dalibor Naskovic, Uros Pavlovic, Slavisa Urosevic, Uros Vukovic, Zoran Zаjic, Nikola Milosavljevic, Nikola Radovic, Nikola Baljak, Dusan Gromovic, Miroslav Jakovljevic, Milos Pavkovic, Luka Scepanovic, Radoslav Sobic, Veljko Terzic, Nikola Terzic, Sasa Susic, Dejan Mijailovic, Marjan Lazic, Nemanja Djosic and Pavle Vicanovic.
You can see the entire picture gallery HERE
About the game you can read on the web site of the Royal Family of Romania LINK
Footage of the event – TV Digi 24 LINK
Footage of the event – RTV Krusevac LINK
Footage of the event – Pro TV LINK
Entire game – LINK