His Royal Highness Prince Philip and Miss Danica Marinkovic were married at Saborna Church in Belgrade on October 7th, 2017. President of the Kingdom of Serbia Association, Mr. Mario Majstorović, was a guest at the wedding, and members of the Association from all over Serbia and Republika Srpska helped the Royal Palace's office to organize and realize this joyful and extremely important event.
The day after the wedding, on October 8th, a delegation of the Association attended a brunch for close friends of the Royal Family and on that occasion presented a gift to our dear newlyweds – a formal flag of the Association with the image of the Royal Couple.
The wedding was officiated by His Holiness Serbian Patriarch Irinej of Serbia. The Godmother was HRH Crown Princess Victoria of Sweden and Godfather was His Royal Highness Prince Peter.
Their Royal Highnesses Crown Prince Alexander and Crown Princess Katherine and everyone were especially delighted that Her Majesty Queen Sophia of Spain and Her Royal Highness Crown Princess Victoria of Sweden came especially for the wedding. The mother of the groom Her Royal Highness Princess Maria da Gloria of Orleans and Bragança, Duchess of Segorbe and her husband His Grace the Duke of Segorbe come from Spain.
The dress of the bride was created by the world known fashion designer Roksanda Ilincic.
Following the wedding in Saborna Church guests went to the White Palace for a reception followed by dinner. The White Palace was built by HM King Alexander I of Yugoslavia the great-grandfather of Prince Philip. Later Crown Prince Alexander Prince Philip, the groom, addressed guests.
"This is one of the most beautiful days in my life and I am overjoyed to share it with you! We are here to celebrate the beginning of Philip's and Danica's life together, for which we wish them to be filled by happiness and love. It is my duty and privilege to welcome Her Royal Highness Princess Danica to our home. I welcome her parents, too, wishing that good luck, health, harmony and family blessings will follow the new couple and through them our homes. Dear Danica, dear Philip, please know that you can always rely on our support", said on this occasion HRH Crown Prince Alexander.
"Danica and I thank you all for being with us on the most beautiful day of our lives so far. We are so happy to share the joy of this moment with you. We thank our parents for organizing this magnificent celebration for us here at the White palace. And above all, thank you Dana for all your love and making for making me the happiest man in the world", said Prince Philip in his address.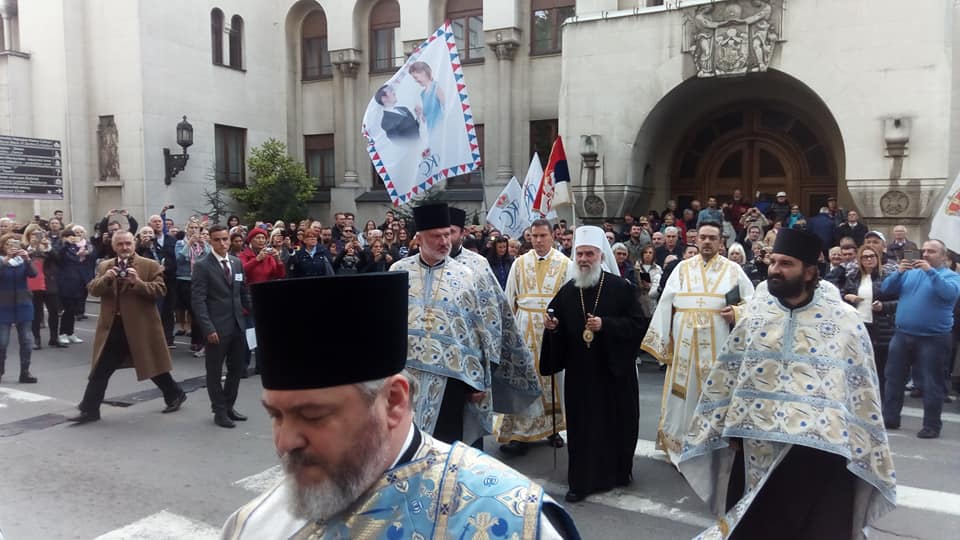 The Royal Wedding in Belgrade was attended by the Royal family – TRH Crown Prince Alexander and Crown Princess Katherine, Their Royal Highnesses' children Prince Peter, Prince Alexander, Alison and David, Alison's son Michael, David's spouse Dr. Angeliki Andrews Margariti and their son Alexander, HRH Crown Princess Katherine's sister Mrs. Betty Roumeliotis, HRH Princess Linda Karadjordjevic, TRH Prince Mihailo and Princess Ljubica, HRH Princess Elizabeth of Yugoslavia, TRH Prince Serge and Princess Eleonore Karadjordjevic, HRH Prince Nikola Karadjordjevic, a large number of the members of the European Royal Families: TRH Prince Guillaume and Princess Sibilla of Luxembourg, HH Prince Amyn Aga Khan, HH Princess Jeet Nabha Khemka and Mr Nand, numerous friends of the Royal Family and Marinkovic families, HE Mrs Maja Gojkovic, speaker of the National Parliament, many representatives of the diplomatic corps, distinguished personalities from the world of culture, arts and politics, members of the Advisory Bodies of the Crown, as well as many citizens and supporters of the constitutional parliamentary monarchy.
His Royal Highness Prince Philip was born in Fairfax, Virginia on 15 January 1982. He is the fraternal twin of Prince Alexander and second in the line to the Throne after Hereditary Prince Peter. He is the son of HRH Crown Prince Alexander and HRH Princess Maria da Gloria of Orleans Bragança. Prince Philip is the grandson of HM King Peter II and HM Queen Alexandra.
HRH Princess Danica was born in Belgrade in 1986 and has lived in Paris since 1992. Princess Danica is the daughter of Mr. Milan Marinkovic-Cile, a famous Serbian painter and Mrs. Beba Marinkovic. She finished most of her studies in Paris, where she graduated in graphic design at the Academy of Applied Arts and Slavic Studies at the University of Paris-Sorbonne. In London, the Princess completed her Master of Graphic Design at the Chelsea College of Art and Design – University of the Arts in London.
Entire picture gallery – LINK